growing the game of tennis
Our mission at Street Tennis is to expose more people to the great game of tennis by offering an affordable, accessible and exciting game that embraces all the characteristics and fundamentals of traditional tennis.
breaking down barriers
Today millions of people around the world already enjoy the game of tennis. However, the growth of tennis is challenged by certain constraints such as the cost of equipment, attire, court time, club memberships, lessons and travel. Street Tennis is simple and affordable enough to eliminate these potential barriers and introduce a generation of new players to the sport of tennis.
keeping people healthy
Everyday we learn more about how important it is to keep an active lifestyle. Playing Street Tennis is a fun way to keep active and spend quality time with friends and family.
finding future tennis stars
While tennis is on the curriculum in some schools, due to time and money constraints the game is taught to only a fraction of the young student athletes that could potentially grow to enjoy and compete playing the great game of tennis throughout their lives. Because Street Tennis is affordable and simple more kids will be exposed to the game of tennis through the school system.
same characteristics as tennis
Street tennis™ equipment is designed specifically to deliver a scaled down version of the game of tennis while respecting all the important elements and characteristics of the real game.
teaching is easy & learning is fun
The Street Tennis™ Ball is slightly larger and softer than a traditional tennis ball making the bounce and stroke pace proportionally slower. The combination of the Street Tennis™ Ball and racket make it possible to teach any traditional tennis stroke. Students will have fun as they progress to play all the shots including forehands, backhands, slams, lobs, volleys & drop shots.
"the ultimate tennis introduction and instruction tool"
Street Tennis™ is a convenient & cost effective tennis training tool for use in: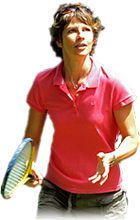 schools - associations - tennis clubs - municipal parks - recreation centers - camp grounds - day care centers
advantages street tennis™
save time – Set up and pack up in minutes, adding to valuable teaching and playing time.
less space – Several courts can be set up in one small area for instruction and the whole kit can packed into a small space for storage

– Play on almost any flat surface, indoors or outdoors.

– All equipment is made from top quality materials and is built to last.

– A complete Street Tennis™ kit costs about the same as a medium quality tennis racket.